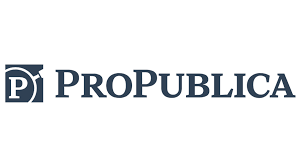 Engagement Internship
About
ProPublica covers topics related to power and betrayals of public trust. This can take many forms: our past work includes a crowdsourced investigation into the nation's maternal mortality crisis, the definitive trove of first-hand videos from the January 6 insurrection and local investigations in partnership with news organizations around the country.
What We Are Looking For
The strongest candidates will be thoughtful listeners, engaging writers, curious researchers and collaborative team players. We'd love to hear about the candidate's experience working with communities, either online (such as Reddit subs or newsletter lists) or offline (such as clubs or neighborhood organizations).
What We Are Offering
This intern will work with mentors on ProPublica's engagement team to crowdsource stories for investigative projects for 10 weeks starting on June 1. You'll likely manage a callout, sift through incoming tips and lead an outreach campaign. You'll think about finding and reaching people with important stories to tell, pulling communities into the reporting process and staying in touch with stakeholders who care about our work. They will participate in community research, crowdsourcing experience and gain mentorship from a team of thoughtful investigative journalists