Attention high school advisers, English teachers and journalism teachers! Let us help YOU train up the next generation of enterprising journalists!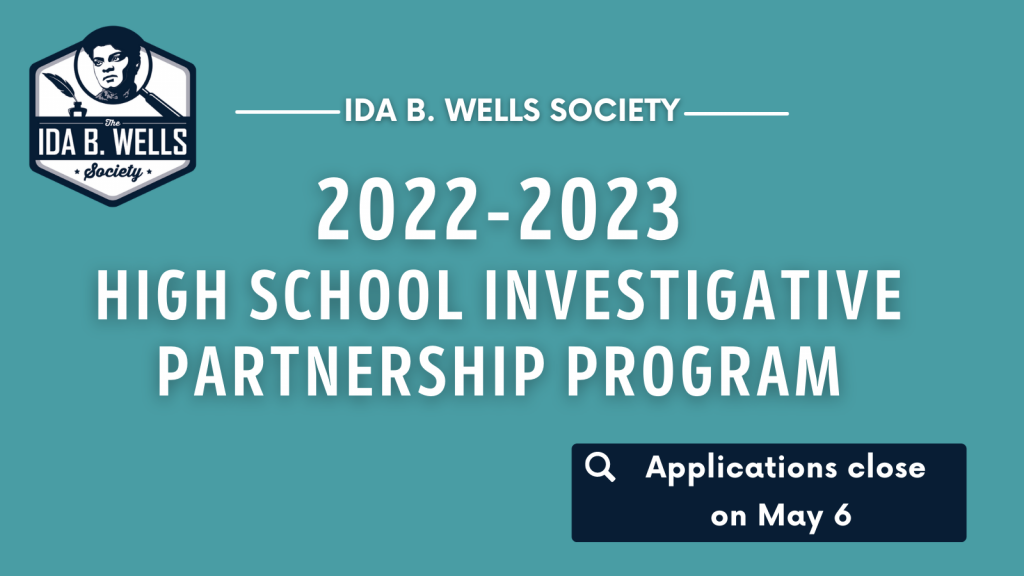 The IBWS High School Investigative Partnership Program works with journalism and language arts instructors at schools that serve primarily historically underrepresented populations and seeks to give students hands-on education in investigative reporting from top-notch local and national investigative journalists. Students ultimately use the knowledge they gain throughout the year towards their own capstone investigative project.
Who are we?
We are the Ida B. Wells Society for Investigative Reporting, a professional news association with a mission of increasing the ranks, retention, and profile of journalists of color in the field of investigative reporting. We know that when those investigating the news reflect the diversity of the communities being covered, more government accountability and stronger democracy prevails. We also know that the pipeline to a lasting successful journalism career often begins at the secondary and post-secondary level. That's where this program comes in.
What do we provide?
Over the course of one academic year, we will provide a journalism or language arts class with regular coaching from a local or regional journalist as well as monthly seminars on different fundamentals of investigative reporting from accomplished journalists and legal experts at organizations around the nation, including ProPublica, The Associated Press and Reveal. We also provide the instructor with a stipend to support instructional and technological needs of the program, as well as other costs such as data management software and subscriptions related to the students' projects. The instructor will also be provided with a general program framework and objectives for integrating student investigative projects into their course curriculum.
What is the goal?
To provide your students with practical resources and high caliber training from some of the best in the business to ultimately produce impactful work. Through this program and hands-on training, we want to equip them with experience in real-world reporting that they can take with them to college and throughout their career.
What do we need from you?
Before applying, please review our FAQ page.
Please complete the IBWS high school program application, no later than May 6, 2022 at 11:59 pm ET.
For additional information and questions, please contact us at idabwellssociety@unc.edu.