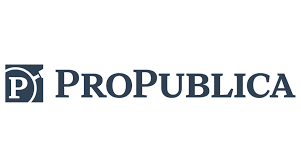 Data Internship
About
ProPublica is an independent, nonprofit newsroom that produces investigative journalism with moral force. We dig deep into important issues, shining a light on abuses of power and betrayals of public trust — and we stick with those issues as long as it takes to hold power to account. With a team of more than 100 dedicated journalists, ProPublica covers a range of topics including government and politics, business, criminal justice, the environment, education, health care, immigration, and technology. We focus on stories with the potential to spur real-world impact.
What Are We Looking For
We are seeking a detail-oriented, data-savvy student. Candidates should know their way around an Excel spreadsheet and feel comfortable working in their data analysis tool of choice, whether that's Python, SQL or R, or something else. We'd like to see examples of your data skills, including published news articles or unpublished class work, and/or examples of data analyses you've done for other projects.The strongest candidates will have prior experience in data journalism or data analysis techniques. Computer science, data science and related majors interested in learning more about journalism are welcomed to apply.
What We Are Offering
This intern will work with mentors on ProPublica's data team on high-impact investigative projects for 10 weeks starting on June 1. You'll be involved in all facets of data journalism: requesting, collecting, creating and querying databases and finding the stories hidden within them. The best data projects go beyond the numbers, so you'll work alongside ProPublica data reporters as they interview sources and craft narratives around their findings. You'll also help us ensure ProPublica's published data journalism is sound and accurate. We work on long-term projects that can take weeks or months to publish, and we'll expect you to collaborate with both reporters on the data team and the newsroom at large. In essence, ProPublica will provide the foundational tools for a career in data journalism, and mentorship from ProPublica's data editors and reporters.