We know you've got questions, and we're here to answer them! We've compiled a list of FAQs for your reading pleasure!
General FAQs
| | |
| --- | --- |
| Q. Do I need to be a professional journalist in order to be a member of the Society? | |
| A. No. Membership is open to anyone with an interest in supporting our mission of building the ranks, retention and profile of journalists of color in investigative journalism. | |
| | |
| --- | --- |
| Q. I missed a training workshop that I really wanted to attend. Is there a recording available? | |
| A. Yes. All of our general membership workshops are recorded and posted along with slides and other workshop resources on our site the following day. They can be viewed under our "Membership Services." | |
| | |
| --- | --- |
| Q. I have an idea for a project that relates to the Society's mission and I'd like to know if they would partner with my organization on it. How can I find out? | |
| A. We love hearing new ideas! You can pitch an idea for a partnership to us by filling out our "Workshop Proposal Form" or "Project Proposal Form" on the Training page of our website. Please be detailed in your proposal. All proposals will be reviewed by Society staff and we will follow up on those we'd like to pursue. | |
| | |
| --- | --- |
| Q. There is a big issue in my community that I would like the Society to investigate and expose. How can I get the Society to cover it? | |
| A. As a news trade organization, we provide training and support to journalists doing investigative work, however, we are not a news outlet, and therefore, we do not cover news – outside of our own Society news. We also do not publish the unpublished work of Ida B. Wells Society members. The best way to get coverage of an issue is to reach out to the local media outlets in your area. | |
| | |
| --- | --- |
| Q. Can the Society help me get other members to investigate my issue or contribute investigative work to my organization? | |
| A. If it is a paid position, you may submit it for approval to our job listings page that is accessible exclusively to our members. However, we will not solicit or promote voluntary work on an individual or organization's behalf. The Society's mission is to serve and support journalists of color seeking advancement in investigative work. An important component of that is fair compensation. If you would like the opportunity to network and collaborate with other like-minded journalists for a project, you can do so through our moderated community forum page. More information on that is in the website section below. | |
| | |
| --- | --- |
| Q. I'd like to reach Nikole Hannah-Jones, Topher Sanders or Ron Nixon for an interview or speaking engagement with my organization. Can you help me? | |
| A. The Society does not function as a booking agent for the organization's leadership, staff or its members. If you'd like to contact one of the Society co-founders for an interview or speaking engagement, we advise you to reach out to them directly or through the agency representing them. No personal contact information will be shared without their explicit consent. | |
Website FAQs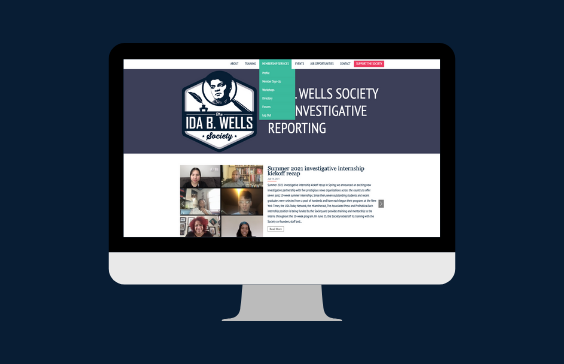 | | |
| --- | --- |
| Q. I'm already a member of the Society (I know because I receive all your emails), but I can't remember the password to log into Member Services portal on the new website. What should I do? | |
| A. First, try clicking the "Lost Password" option. This should take you to a page where you can enter an email to send the password reset link to. If you don't receive it, contact us at idabwellssociety@unc.edu and one of our support staff can send you the link. You also have the option to re-register as a member (there is no cost to re-register). Simply notify us once you do at the above email address so we can remove your old account. | |
Q. I signed up to become a member and completed my profile, but it's not showing up in the membership directory. Why is that?

A. There could be two reasons why it's not showing up:
1.) The "Hide from directory" check box just above your image in your profile is checked (it's set up that way by default). Once you uncheck it, your profile should show up.
2.) Your profile has not been approved for publication yet. Typically, each new profile is approved within a matter of minutes, but if you do not see it up within 24 hours of submission, contact us at idabwellssociety@unc.edu.
| | |
| --- | --- |
| Q. I'd like to connect with other members on the site to network, learn about opportunities at their publication, get advice about how to obtain public records, etc. What's the best way to do that on this site? | |
| A. First, it's a good idea to make sure your profile is up to date and visible in the directory. That way other members can learn a little bit about who you are, so they'll feel more comfortable connecting with you. Then, we suggest entering the question or the topic you'd like to discuss on our Forums page. You can also look up other members with similar interests or areas of expertise to connect with within our directory. | |
| | |
| --- | --- |
| Q. I entered a question/comment on the Forums page, but I don't see it yet. What happened? | |
| A. All forum questions and responses are first screened by the Ida B. Wells Society staff before they are published to ensure that conversations are productive and the environment remains safe and supportive for all participants. If you don't yet see the question/comment you entered in the forum chat, that may mean it has not yet been approved. Publication of any and all questions and comments are at the discretion of the Society. Obscene, racist, libelous, or otherwise hostile questions and/or comments will not be approved. | |
| | |
| --- | --- |
| Q. I'm an editor/hiring manager at a news agency that is committed to diversifying its staff, and I'd like to get the word out about our open positions to Society members. How can I do that? | |
| A. Good news! We have a form just for you! You can enter information your agencies' openings directly on our site by selecting the "Employers" in the drop-down menu of the "Job and Grant Opportunities" tab on our home page. Once you submit the position a member of our team will review and once approved it will show up in our member-exclusive jobs listing page. | |
Q. I'm a journalist looking for a new job/new opportunity to advance in my career. Will completing the job candidate form help me?
A. The job candidate form on the Job Seekers page is not a stand-in for a job application. However, it does help the Ida B. Wells Society staff better match members with potential news organizations seeking new employees. That helps us determine if you might be a good match for an employer.

We also recently announced a new partnership with the Diversity Pledge Institute to help better match our members with promising opportunities. You can opt into that program by completing this survey.

| | |
| --- | --- |
| Q. I don't want others to know I'm seeking a new job. Will indicating that I am seeking a job on my profile, jeopardize that? | |
| A. Only if you elect to make it visible on your profile. You have the option of hiding it, along with other profile information. If you hide that information, it will only be visible to Ida B. Wells Society staff. | |