EDITORS' NOTE: When we learned that the Carolina Association of Black Journalists (CABJ) had extended an invitation to Pulitzer Prize-winning alumna Nikole Hannah-Jones '03 (M.A.) and that Hannah-Jones agreed to virtually visit, we asked Ruth Etiesit Samuel, a senior at UNC Hussman School of Journalism and Media and social media chair for CABJ, to write about the conversation. Samuel, a Morehead-Cain scholar currently interning with NBC's The Today Show, filed this report.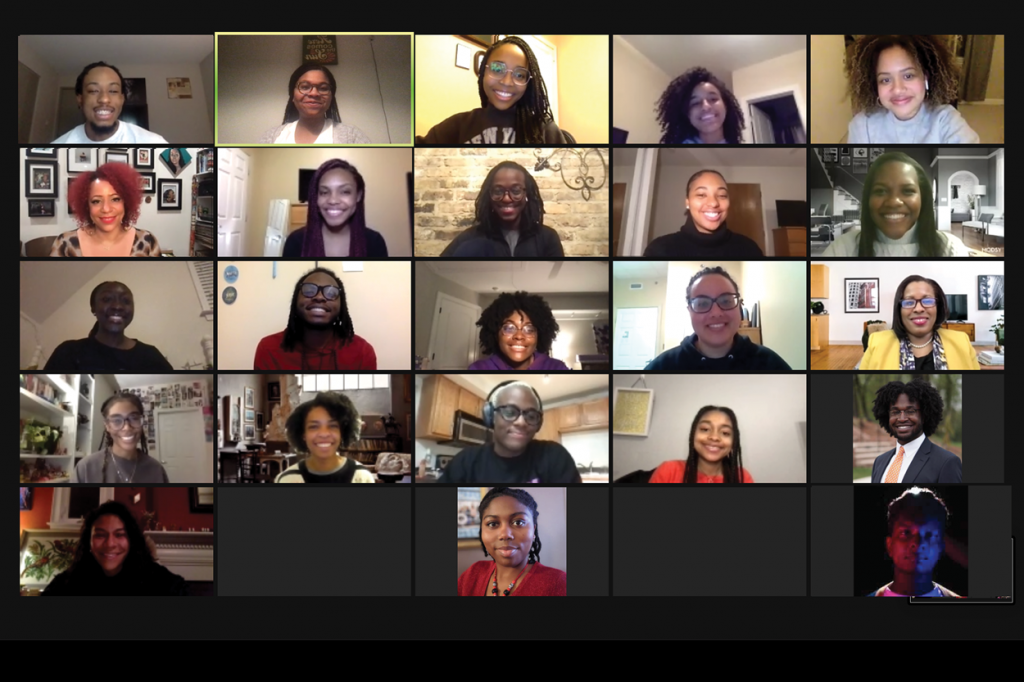 February 4, 2021
By Ruth Samuel
To kick off their Black History Month programming, the Carolina Association of Black Journalists (CABJ) in the UNC Hussman School of Journalism and Media invited Pulitzer Prize-winner Nikole Hannah-Jones to a virtual Q&A session with student members. Held on the evening of Wednesday, Feb. 3, the private event was hosted via Zoom and focused on Hannah-Jones' journey as an alumna, the challenges Black media professionals face, and how students can be better prepared for such.
"When you think of journalism and important pieces to Black Americans, The 1619 Project is at the top of the list. It really revolutionized how we think about American slavery. It was so important to have her perspective, and she's had an interesting career path," said CABJ Co-President Landon Bost, a UNC Hussman senior on the photojournalism track.
Founded in 1991, CABJ seeks to diversify UNC Hussman and the journalism industry at large, while providing community and resources for Black storytellers. The organization was co-founded by the late Professor Emeritus Chuck Stone, who served as the National Association of Black Journalists' first president, and Professor Harry Amana, who was the chapter's first adviser in the early 1990s.
Original founding members include Teaching Professor Valerie "VK" Fields, Miami-Herald reporter Jacqueline Charles, and more. Now, approaching its 30th anniversary, CABJ has won NABJ's Student Chapter of the Year award three times in 2001, 2002 and 2007, and was nominated for the award in 2005, 2012, 2013, 2015, and 2017. The chapter's motto is, "Without diversity, there is no excellence."
"Journalism as a whole relies on diversity, just for the general fact of having accurate news from multiple perspectives," said CABJ Co-President Samaria Parker '21. "Having a space where students can see people, like Nikole Hannah-Jones, in positions where they are actually doing what many of us in the group want to accomplish in the future is a really great resource."
The event began promptly at 6 p.m. EST, with housekeeping announcements and Black popular culture trivia on Kahoot. Following the icebreaker, Parker, who transferred from UNC Charlotte in Fall 2018, asked the first questions of the evening: what drew Hannah-Jones to Carolina after her undergraduate studies at the University of Notre Dame and what sparked her love for writing?
Hannah-Jones said, "I knew that I wanted to stay in the South. Carolina offered me the Park Fellowship, which pays full tuition and a stipend, so it was an easy decision. I certainly didn't have models of Black investigative reporters or Black women investigative reporters, but I started thinking about journalism at a super young age."
The New York Times Magazine reporter could not remember a time when she and her father did not read the local city and state paper. At 11 years old, Hannah-Jones' first letter to the editor was published in a local Iowa newspaper in 1988, expressing her "outrage" by the lack of support Jesse Jackson received in the Iowa primary.
What she did recall was that while reading, the only time Black stories were referenced was in the context of a crime log. As a self-described Aries "who will always take you up on a challenge," she sought to change that in high school.
"I had a Black studies class, and complained to the teacher about how our high school never wrote about the Black kids like me who were all bused into the school," Hannah-Jones said. "He told me either join the paper and write those stories yourself or shut up, so I joined my school paper. I won my first journalism award as a high school student."
For Nina Scott-Farquharson, a first-year general body member of CABJ, her introduction to Nikole Hannah-Jones was at UNC Hussman's "Making a Mark" event held on November 16, 2019. At the time, the 18-year-old was attending Carrboro High School and asked a question regarding an article for her student newspaper on the achievement gap and racial segregation.
"One of the main reasons I joined CABJ is because I wanted a mentor, and people to tell me their experiences as a Black student in the journalism school. The fact that she's willing to spend her time and talk with us just shows how humble she is and how she sees the future in us," Scott-Farquharson said.
Currently, the first-year student is interested in advertising and public relations, but found that the advice Hannah-Jones offered regarding networking and starting at the local level to get tangible skills resonated deeply with her. Hannah-Jones began her reporting career at The News & Observer, reporting on Durham Public Schools.
Hannah-Jones said, "I just don't think that the only way to become a great journalist is to go to these big institutions. Some of the most powerful work that is done is done at local and regional papers, and these are people who are actually invested in training you as a journalist. The type of guidance that you get at smaller institutions is just invaluable."
Alumna Shandel Menezes '20 now works as a broadcast reporter based in Tyler, Texas, arriving there just four months ago. As former CABJ president, Menezes lamented that COVID-19 thwarted a lot of the plans her executive team had originally organized — but was thrilled to learn that the new team invited Hannah-Jones.
Reflecting upon her time in the Hussman School, Menezes credited the CABJ network with helping her secure a summer internship with the Television Academy after her sophomore year. The 2019–2020 president said, "I would have never known about that without me being in a specific group within the J-school and just so happening to see my email that day."
From candid conversations regarding mental health to poignant reminders that "the only thing you can control is how excellent you are," Hannah-Jones encouraged students not to compromise on their values and to amplify stories that matter to their community.
She said, "Part of the reason it took me longer to get where I got was because I refused to compromise on certain things. You were not going to tell me I couldn't write about Black people but you never told a white reporter that he couldn't write about white people. You have to find your groups like CABJ so that you can truly be yourself."
Once the unofficial "chapter mom" and now an associate professor at Carolina, Associate Professor Trevy A. McDonald attended the event last night and reflected on the necessity of spaces such as CABJ. McDonald, who was awarded the Unsung Hero Award at Carolina's 40th annual MLK Jr. Lecture and Award ceremony last week, became CABJ advisor in 2010 along with Jan Yopp, retired faculty member at UNC Hussman and dean of the UNC Summer School. McDonald has been serving as UNC Hussman's inaugural diversity, equity and inclusion chair since July.
"I went to the University of Wisconsin at Oshkosh for undergrad, and there were no Black faculty members in my department," McDonald said. "I didn't even know the NABJ existed until I came to Chapel Hill, so I just think about how much richer my college experience would have been if I had been connected and been able to attend the convention."
While CABJ emphasizes the importance of networking and community, service has always been a pillar of the organization. McDonald noted that before the pandemic, CABJ members hosted hands-on journalism workshops with local high school students each spring. From organizing teacher appreciation gift bags to honoring housekeepers in Carroll Hall, McDonald hopes CABJ upholds its history of service and that its members continue to be leaders in promoting diversity, equity and inclusion.
McDonald said, "CABJ has a history and legacy of always reaching back, and I'm really excited now that we have other organizations forming in the school, like the NAHJ chapter and the NLGJA chapter. I love how CABJ is working with these other organizations and is helping these organizations foster a greater sense of belonging here at Hussman."