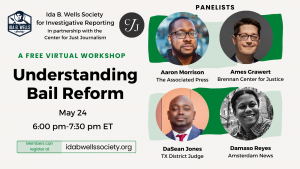 The Ida B. Wells Society for Investigative Reporting is partnering with the Center for Just Journalism for a four-part workshop series, "Investigating Criminal Justice: A Closer Look at the Way We Cover Crime." 
The second session will feature a group of panelists discussing bail reform. Our panelists will talk about the history of bail reform and its evolution through the years along with present challenges surrounding the topic. They will offer insight into how to cover bail reform and the movement and conversations around it.
Panelists:
Aaron Morrison, The Associated Press
Ames Grawert, Brennan Center for Justice
DaSean Jones, Texas District Judge
Damaso Reyes, New York Amsterdam News
Workshops are open to members of the Ida B. Wells Society. In order to register for this workshop, you must be logged into your account or register for membership. If you are not a member, you can register here. If you are an IBWS member you can log into your account here.