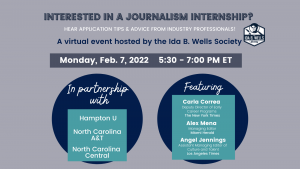 It's hard to believe that summer internship application season is already upon us. We will be issuing a call for applications for the second annual Ida B. Wells Society Investigative Internship Program in February with even more news partners and opportunities for students and recent graduates than last year.
So to get you prepared to bring your A-game, we'll be holding a couple of virtual internship prep sessions with some of our partner HBCUs and news organizations. The first one takes place from 5:30-7 p.m. ET on Feb. 7 in partnership with NC A&T, North Carolina Central University and Hampton University and will feature Carla Correa of the New York Times, Alex Mena of the Miami Herald and Angel Jennings of the L.A. Times, breaking down the dos and don'ts of internship applications.
The panel will be moderated by IBWS summer 2021 investigative intern at the Associated Press, Roselyn Romero.
This is the first of three prep sessions. Students are welcome (even encouraged) to attend all three!
Register with the link below:
https://unc.zoom.us/meeting/register/tJUtfumqpjMsEtUnyrThQj0O3fTVIgkQCzEk