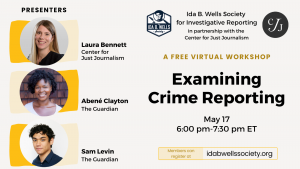 The Ida B. Wells Society for Investigative Reporting is partnering with the Center for Just Journalism for a four-part workshop series, "Investigating Criminal Justice: A Closer Look at the Way We Cover Crime." 
For the first session in the series, members will hear from Laura Bennett of the Center for Just Journalism, Abené Clayton of The Guardian and Sam Levin of The Guardian as they look at crime reporting. Presenters will discuss examples of crime reporting gone wrong, talk about working with crime victims and criminal justice reform, and share what the future of crime reporting could look like.
Workshops are open to members of the Ida B. Wells Society. In order to register for this workshop, you must be logged into your account or register for membership. If you are not a member, you can register here. If you are an IBWS member you can log into your account here.