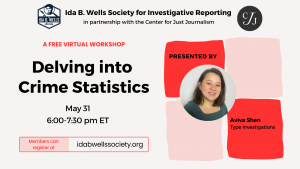 The Ida B. Wells Society for Investigative Reporting is partnering with the Center for Just Journalism for a four-part workshop series, "Investigating Criminal Justice: A Closer Look at the Way We Cover Crime." 
During the 90-minute session, Aviva Shen of Type Investigations will share how to interpret crime statistics, what happens when people panic about rising crime rates and how to use and interpret more meaningful measurements when reporting.
Workshops are open to members of the Ida B. Wells Society. In order to register for this workshop, you must be logged into your account or register for membership. If you are not a member, you can register here. If you are an IBWS member you can log into your account here.