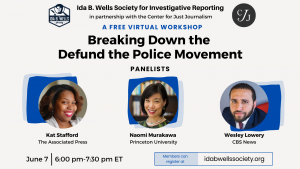 The Ida B. Wells Society for Investigative Reporting is partnering with the Center for Just Journalism for a four-part workshop series, "Investigating Criminal Justice: A Closer Look at the Way We Cover Crime." 
During our final session in the series, our panelists will be discussing the topic of defunding the police and the narrative surrounding it. They will be talking about how the movement has evolved and how to cover it accurately and fairly.
Panelists:
Naomi Murakawa, Princeton University
Kat Stafford, The Associated Press
Wesley Lowery, CBS News
Registration for this workshop opens on May 30.