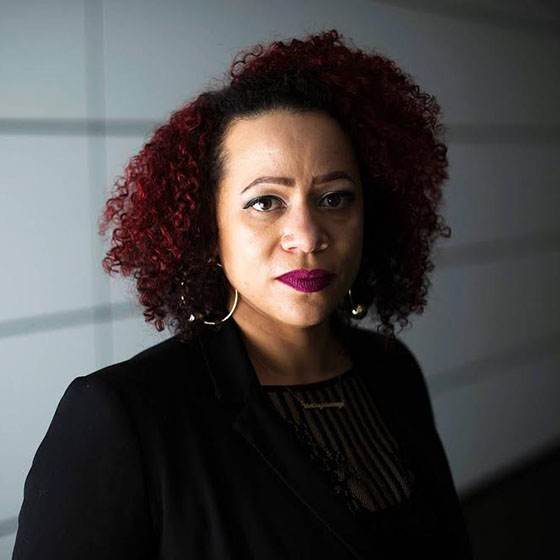 Nikole Hannah-Jones
Nikole Hannah-Jones is a staff writer at The New York Times Magazine, where she investigates the way racial inequality is maintained through policy and official action. She was named to the 2017 class of MacArthur Foundation Fellows—also known as the "genius grant," an honor bestowed to "extraordinarily talented and creative individuals"—for her work.
Prior to joining The Times, Hannah-Jones spent three and a half years reporting on civil rights and segregation at ProPublica, a nonprofit, investigative reporting firm based in New York City. A journalist for more than 13 years, she's also covered various beats for The Oregonian in Portland and The News & Observer in Raleigh, N.C., as well as reported on race in Cuba and Barbados.
Hannah-Jones's reporting across platforms on school and housing segregation and federal failures to enforce civil rights law has earned her numerous national awards. In 2016, she won a Peabody Award and George Polk Award for her reporting on school segregation in the district where Michael Brown graduated. Her 2014 investigation into school resegregation won two Online News Association awards, the Sigma Delta Chi Award for public service, the grand prize for national education reporting, and was a National Magazine Award finalist. She's earned numerous other awards, including a Deadline Club Award, Columbia University's Paul Tobenkin Memorial Award and the Gannett Foundation Innovation in Watchdog Journalism Award. Hannah-Jones is also the National Association of Black Journalists' 2015 Journalist of the Year.
Ron Nixon

Ron Nixon is international investigations editor at The Associated Press and is based in Washington.
Nixon manages a team of international investigative reporters based in London, Cairo, New Delhi, Shanghai and Washington, and works closely with colleagues around the globe to conduct ambitious investigative and accountability reporting on a variety of topics. Nixon was previously the homeland security correspondent for The New York Times, where he worked for nearly 14 years.
At the New York Times, Nixon covered border and aviation security, immigration, cybercrime and violent extremism. He has reported from Mexico, Guatemala, Costa Rica, Canada, Belgium, Rwanda, Uganda, Senegal, South Africa, Kenya, Nigeria and the Democratic Republic of Congo, among other places.
He is the author of the book "Selling Apartheid: Apartheid South Africa's Global Propaganda War" and is a visiting associate for Journalism and Media Studies at The University of the Witwatersrand in Johannesburg, South Africa.
Topher Sanders

Topher Sanders covers race, inequality and the justice system for ProPublica. In 2019, he was part of a team that was a Pulitzer Prize finalist for Public Service and won the Peabody and George Polk awards for their coverage of President Trump's family separation policy. In 2018, he and reporter Ben Conarck received Columbia University's Paul Tobenkin award for outstanding reporting on race and the University of Colorado's Al Nakkula award for outstanding police reporting for their multi-part investigation "Walking While Black." The series explored how jaywalking citations are disproportionately given to black pedestrians. The investigation also earned a Deadline Club award, a National Association of Black Journalists' Salute to Excellence award and the Florida Society of News Editors Gold Medal for Public Service.
In 2017, Sanders and colleague Ryan Gabrielson received the John Jay College/Harry Frank Guggenheim award for excellence in criminal justice reporting and an Aronson Award for social justice journalism for their multi-part series "Busted," an investigation of the systematic misuse of roadside chemical field tests by police.
Sanders' data-driven reporting on juvenile plea deals and the time Jacksonville juveniles spend in pre-trial detention facilities was a 2015 finalist for an Investigative Reporters and Editors award. His reporting on public-records concerns and questionable behavior by Jacksonville's elected public defender prompted Florida Gov. Rick Scott to order an investigation of the office in 2013. The investigation resulted in a scathing grand jury report asking Scott to remove the elected official. He is a graduate of Tuskegee University and started his journalism career at The Montgomery Advertiser in Montgomery, Alabama.